Since the start of the Russia- Ukraine war, an old black and white picture has circulated online showing a white man, falsely claimed to be Vladimir Putin's training liberation movement in Southern Africa. 
Since the war started, each faction has garnered the world's support to justify its course. According to BBC, it has been used to justify why African countries should support Russia in the war in Ukraine.
The Ugandan autocratic ruler's son Muhoozi Kainerubaga also shared the picture on Twitter calling Africans to support Russia's invasion only if the image is true that it was taken during the liberation of the African continent. 
Pieces of evidence negate the year 1973 used along with the picture that Putin was in Tanzania. The photo features current Zimbabwe President Emmerson Mnangagwa and the late Samora Machel, the former president of Mozambique; both claim to have been trained by Putin in Tanzania in 1973. According to the blogs in Zimbabwe that posted this picture way back in 2018. 
There is no evidence to suggest Putin was in Africa around that time (1973). Putin was born in 1952, his profile on the Kremlin website shows that in 1975, Putin was a student at Leningrad State University in Russia.
According to Paul Fauvet, a journalist who has lived in Mozambique for several decades, Chinese instructors and not the soviets trained Mozambican freedom fighters. 
Also, current Zimbabwe President, Emmerson Mnangagwa, it is impossible that he was in Tanzania in 1973 as he spent 10 years behind bars from 1965, arrested by the white-minority government, the then Southern Rhodesia. You can do the math.
Renato Matusse, a Mozambican author, used the image in his book 2018 with the caption "Mr Machel with Soviet military advisers touring a military facility near the country's capital Maputo in the mid-1980s". But he says it's clear that Mr Putin is not the man in question.
There is also no mention of him having visited Mozambique by the Kremlin or in any of his biographies.
José Milhazes, a historian and journalist, suggests the person appearing in the photo was another senior Soviet official serving in southern Africa.
Georgi Derluguian, who worked as a Portuguese-Russian interpreter in the 1980s, and is now a professor at New York University Abu Dhabi, says that the man in the photo is Mr Putin "is a joke".
He says the boots worn to indicate a military man, while Mr Putin was an intelligence officer. The appearance is also more like that of an older Mr Putin.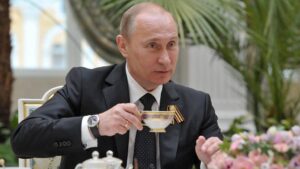 The mystery man in the photograph is wearing a watch on his left arm. Mr Putin – at least nowadays – habitually wears one on his right arm.